« Big Bang. Comprendre l'univers depuis ici et maintenant » by Jean-Philippe Uzan, Flammarion
In his general audience book entitled « Big-bang, comprendre l'univers depuis ici et maintenant », published by Flammarion on October 10th, 2018, Cosmologist Jean-Philippe Uzan invites his readers to understand the development of the Big Bang model, a theory that aims at describing the Universe and its history.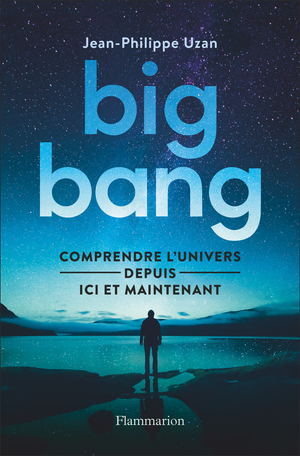 "L'univers aurait 13,7 milliards d'années, lit-on souvent. Mais que signifie une telle affirmation? Implique-t-elle que l'univers a une origine? Comment penser ce big-bang primordial?
Dans cette synthèse magistrale, Jean-Philippe Uzan (...) détaille les hypothèses théoriques et les observations sur lesquelles ce modèle repose. Au fil des pages se dessine un extraordinaire échafaudage qui, en un siècle, a bouleversé notre représentation du cosmos comme de l'espace et du temps.
Or la cosmologie se trouve à un moment charnière : alors que les satellites et les télescopes géants se multiplient, que les fenêtres d'observation s'ouvrent vertigineusement – ondes gravitationnelles, neutrinos –, les médias font leur une sur des scénarios pour le moins spéculatifs. Il devient ainsi urgent de clarifier les questions auxquelles la science prétend répondre, celles qui ne sont pas encore tranchées – la matière noire, l'inflation, etc. – mais aussi celles qui restent en dehors de son champ explicatif. Voilà l'ambition de cet ouvrage qui, tout en célébrant l'une des plus belles théories jamais élaborées par l'esprit humain, démêle finement mythe et savoir."
Find more information on the website of Editions Flammarion.